Agent Referral Program
Let us be your Resource in Property Management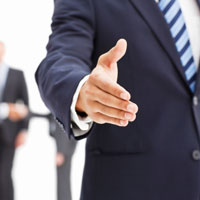 At Chaplin Williams Rentals, we appreciate all business opportunities from everyone. Be it Real estate Brokers, Real estate Agents, Referral Agents, or Residential/Commercial Property Managers. If you know of any owners in need of our Professional Property Management Services OR families looking for good rental homes in the Northeast Florida area and you have a real estate license (anywhere) we are happy to offer you a property management referral fee. Please complete the referral form on this page and e-mail, fax or mail it to us. We will acknowledge receipt and make immediate contact with your referral prospect.

WE DO NOT SOLICIT TO LIST OR SELL. As our name suggests, we at Chaplin Williams Rentals are primarily focused on the management of single-family homes, condos, and town homes. For this reason, local brokers and agents will find that we are a reliable partner in their efforts to provide housing for their customers and clients. Since 2002, when we began, brokers and agents alike have found that they can refer us their leasing and management business and know that when the customer or client is ready to buy or sell, they will get the owners' listing, or the home buyer back. We are not your competitors.

WE WANT YOU TO LOOK GOOD. We have been managing rental properties for ourselves, other owners and investors for over 10 years. We are full time property managers. We know the problems and the solutions with procedures in place to make sure that your customers are satisfied. When the client you refer experiences our professionalism and quality service, they will thank you.

WE WILL MANAGE YOUR RENTAL INVENTORY. Most Brokers manage rentals because they feel they must in order to get repeat listing and sales from their clients. They must provide full service for their clients and their customers. Now you don't. We will take over your inventory of rentals, pay you a referral fee, give your clients and customers great management service, and when your owner/client is ready to sell, you will get the property back to list and sell. We have done this for other brokers and agents and it works great for the both of us. It really is a win, win.

WE PAY THE BEST REFERRAL FEES AROUND, EASY.
MONEY IS AS EASY AS 1, 2, 3:
We start with a base of $50... FOR QUALIFIED TENANTS & THEY RENT. Getting calls from renters? Turn them in to Dollars. Refer them to us! If your referred tenant rents our listing, you will receive a referral fee of $50.00

1%... YOU SHOW, YOU RENT. You find the tenant; you show our rental listing & get them to our online application. If they are approved and sign a lease, you will receive a referral fee of 1% of the yearly rent, i.e. Monthly Rent is $1000 x 12 months = $12000 x 1% = $120.00

2%... FOR OWNERS, when your owners need full leasing and management services, "HELP THEM"... And "HELP YOURSELF"... by referring them to us. It's a win-win Their home is rented; you will receive a referral fee of 2% of the yearly rent, i.e. Monthly Rent is $1000 x 12 months = $12000 x 2% = $240.00 (Should the Owner sign a Tenant Placement Agreement, you will receive 10% of the Tenant Placement Fee, i.e. TPF is $1000 x 10% = $100.00)

3%... YOU RENT, WE MANAGE. The perfect marriage for those who want it Without the Pain and Agony of Managing rental property... you find a tenant (who meets our qualifications) for your owners property, i.e. Monthly Rent is $1000 x 12 months = $12000 x 3% = $360.00

Owner signs a management contract with us, tenant signs a lease. You will receive a referral fee of 3% of the yearly rent and we get the mid- night calls and headaches. IT'S A WIN FOR YOU AND A WIN FOR US!